Sunset River Cruise
Booking conditions relating to COVID-19
The safety of our staff and passengers is our main concern, so we will be following Government guidelines when operating. We ask that customers familiarise themselves with the guidelines before boarding and adhere to these guidelines at all times when on board.
COVID-19 Secure Guidelines
Table service only
To ensure that a safe social distance of both guests and staff is respected and maintained, tables will seat a maximum of 8 people per table if from up to 2 households or a maximum of 6 people per table if from different households.
The distance between tables has been increased in line with government recommendations for social distancing (1+ metre apart). You will be given your table number on arrival to the vessel.
When away from your table or walking around the vessel please wear an appropriate face covering.
You can order drinks via an app on your phone or with a waiter/waitress. Drinks will then be delivered to your table.
Customers cannot order drinks at the bar.
Mandatory hand sanitising when boarding the vessel for all passengers and staff.
Face masks/shields are mandatory for all staff.
Customers should bring their own mask or will be provided with a face covering when on the pier prior to boarding. Masks are mandatory on entering the pier, in accordance with TfL terms and conditions.
When on the pier we ask that you adhere to the two-metre guideline. The queuing point will be established outside of the pier entrance gate.
You will be instructed by a member of crew when to board the vessel, at a safe distance.
Please follow instructions on signs on the pier and vessel.
When on the vessel we ask that you adhere to the 1 metre guideline.
We have installed numerous hand sanitiser stations throughout the vessel that should be used frequently.
The roof (weather dependent) and all windows and doors will be kept open to maximise the fresh air flow rate.
All staff and passengers are subjected to mandatory temperature checks upon access to the vessel.
Any passengers showing signs of symptoms of COVID-19 will be refused entry to the vessel.
We are reinforcing the cleaning and disinfection of the venue regularly and ask for your cooperation in keeping the pier and vessel tidy.
Music will be kept at a volume in line with current Government guidelines.
All bookings are subject to vessel transfers and/or operational changes.
We operate a strict over 18's policy. Valid proof of identification is essential for EVERY customer. No identification will result in refusal of admission. A valid Passport or Driving License (full or provisional) is the only accepted form of ID.
Contactless payments will be encouraged. We accept both cash and card, with a £10 minimum card spend.
Please note no food or drinks are to be brought onboard.
Boarding begins at least 15 minutes before the departure time. No return for late passengers so please arrive on time.
Please be aware tickets are non-refundable.
Vessel seating plan (lower and upper decks)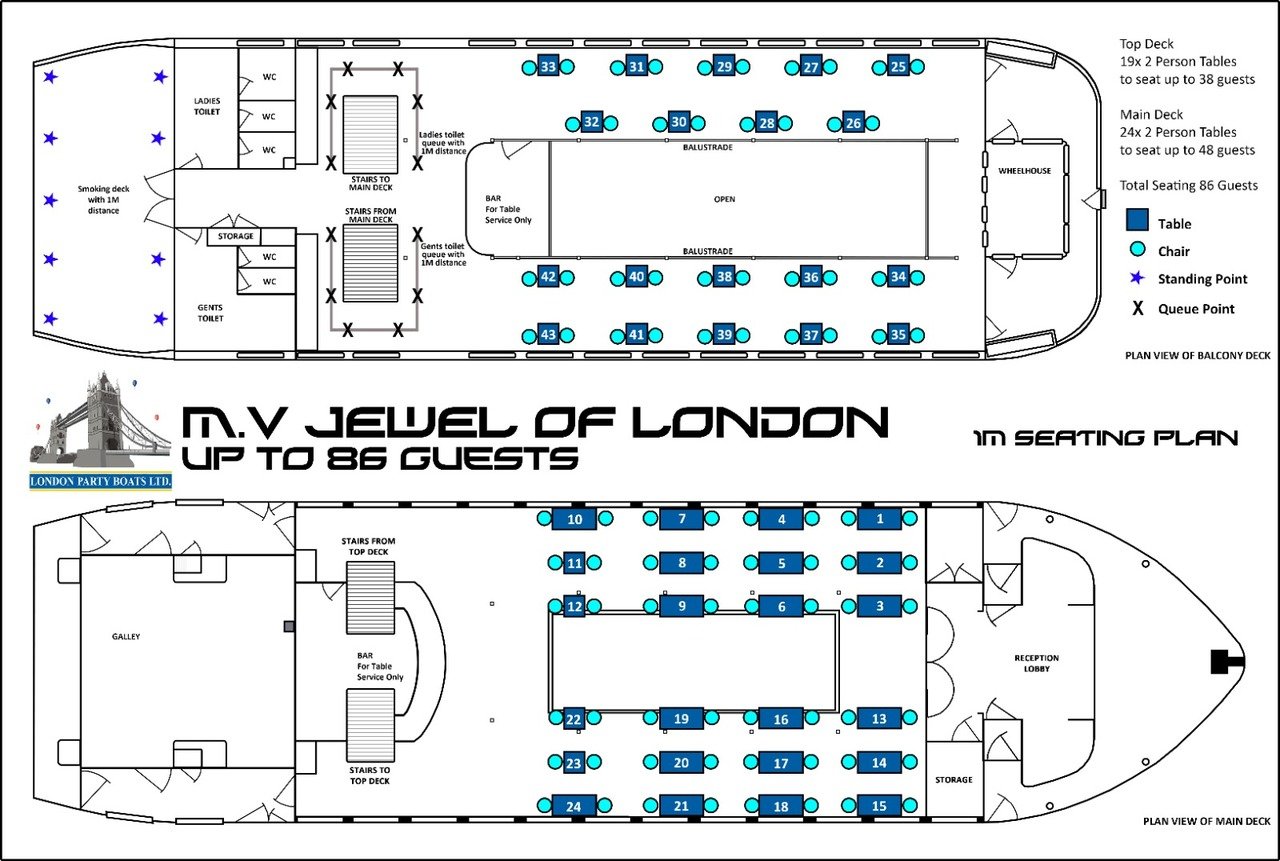 Example of seating plan on the lower deck (one metre distance)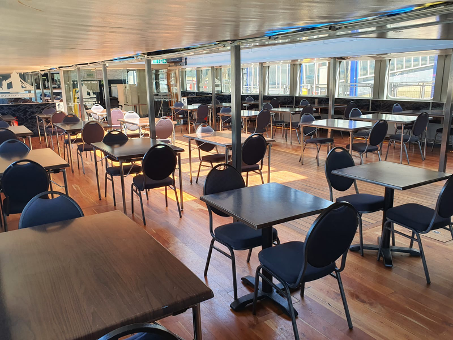 London Party Boats Ltd has an excellent safety and sanitation record and have always operated and maintained a rigorous process around cleanliness and hygiene. Our crew are working to ensure that they meet the latest guidance on hygiene and cleaning protocols. We are taking specific steps to include proper and frequent hand washing/sanitising, thorough disinfection of food preparation surfaces before and after each event, alongside regular sanitisation of our vessels before and after service. In addition to these measures, we have increased the frequency and focus of our cleaning procedures, with focus on high-touch areas like handrails and doorknobs, and other surfaces.